PGDIS 506 Myth, Meanings and Indigenous Epistemology (2 Credits)
About This Course
The question of knowledge, knowing and the way of knowing are important to Indigenous studies. One important tool in this is Myth as a means of knowing. A full course on Myth, Meanings and Indigenous Epistemology is offer to bridge the gap. Myth for Indigenous people is not unreal but a different way of knowing as well as an expression of that knowing. The course expects both the re-collection of the myths and exploration of their meanings.
Objectives
To re-look at Myths and its components
To equip the students with necessary knowledge and skill to read and understand myths better
To see the reality more integral and richer through the lenses of myths
Learning Objectives
The students learned and appreciated myths
The students acquired knowledge and skills to read and understand myths
The students learned to use myths as one of the tools to impart knowledge
Requirements
Armstrong, Karen, A Short History of Myth (Edinburgh: Canongate Books Ltd, 2006)
Dena, Lal, Hmar Folk Tales (New Delhi: Scholar Publishing House, 1995)
Goswami, Tarun, Kuki Life and Lore (Assam: North Cachar Hills District Council, 1985)
Unit I: Understanding the nature of Myth
Definitions of myth; Myth in the modern society;
Unit II: Myths and Meanings
Identifying the role of myths in Indigenous culture; Deeper study of select myths and their meanings; Ways of reading myths and their meanings; Role of Myths in Indigenous Society.
Unit III: An exploration of myths and their meanings for today
Myth and the understanding of Creation; Myth and community life; Myth and life after dead;
Your Instructors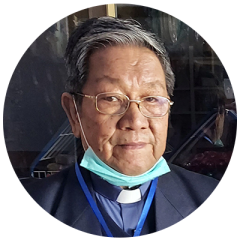 Fr Peter Haokip
Core Faculty
Employment/Academic Experiences
Episcopal Vicar, Professor Emeritus, Oriens Theological College, Shillong, Mawlai- 793 008, Meghalaya.
Professor of OT, Hebrew, Latin, Tribal hermeneutics, contextual theology
Christian Ministry: Pastoral Ministry: 8 years: 2 years in Nagaland, 6 years in  Manipur. Date of Ordination: 26.03. 1977 Education: BA (distinction), Philosophy: L. Ph (Licentiate/Master in Philosophy Theology: M. Th., LSS (Licentiate in Sacred Scripture, D. Th (pursuing) Memberships:
Regular member of seminar and contributor on Tribal theology for over ten years at north eastern regional social research centre, Guwahati
Regular participant and contributor of seminars conducted  by Sanskriti: North East Social Research Centre, Guwahati for over 10 years
Publications: Publish over 50 articles on Tribal theology, Tribal reading/interpretation of the bible and also challenges and opportunities facing  the tribals in north east India Field of Interest: Ever since my M. Th thesis which was on the encounter between Christianity and Kuki culture (my culture)/Tribal culture my main interest and reflection has been and continues to how to truly Tribal and truly Christian or being a Christian with a 'Tribal touch' or how to make Jesus be born anew in Tribal culture and transform it.
See more