PGDIS 551 Indigenous People, Land and the Biblical World (2 Credits)
Course Prerequisites
Please note that this course has the following prerequisites which must be completed before it can be accessed
About This Course
For Indigenous people, their land is part of their identity. If their community land is taken away from them, that is considered, they became a people without an identity. In this sense, the land owns the people and it is that land makes them who they are. The indigenous wisdom is also influenced by their environment and hence the two are closely connected. While this is true, at the same time, the worldview often leads to communal tension unless it is understood in the light of the Bible. A full course on Indigenous People, Land and the Bible is offer to provide a balance view wherein we protect our land and at the same time share it with others who are in need.
Objectives
To critically review the Indigenous landholding systems and identify both strengths and limitations
To have an overview of communal conflicts due to land ownership claims
To explore the theology of land in the Hebrew Bible for insights to deal with land issues
Learning Objectives
The students became aware of issues surrounding land and land holding systems among Indigenous people
The students gained knowledge about the theology of land and human responsibility
The students acquired knowledge and skills to address issues concerning land ownership claims and counter-claims among indigenous communities
Requirements
Akhup, Alex, ed., Identities and their Struggles in North East (Kolkata: Adivaani, 2015)
Brueggemann, Walter, The Land: Overtures to Biblical Theology (Philadelphia: Fortress, 1977)
Havea, Jione, People and Land: Decolonizing Theologies - Theology in the Age of Empire, (Lanham, Maryland: Rowman & Littlefield, 2019)
Unit I: Understanding Indigenous People's Concept of Land
Clans, Clan system and Establishment of a village lands; Land as Life; Land as Identity
Unit II: Challenges to Indigenous People's Concept of Land
Privatization of lands; Exploitation of natural resources; communal tension over claims of ownership; Introduction of Government policies
Unit III: Biblical Theology of Land
Land as a gift from God; Land owner as a care-taker; Christian spirituality and Creation Care
Your Instructors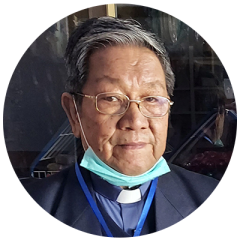 Fr Peter Haokip
Core Faculty
Employment/Academic Experiences
Episcopal Vicar, Professor Emeritus, Oriens Theological College, Shillong, Mawlai- 793 008, Meghalaya.
Professor of OT, Hebrew, Latin, Tribal hermeneutics, contextual theology
Christian Ministry: Pastoral Ministry: 8 years: 2 years in Nagaland, 6 years in  Manipur. Date of Ordination: 26.03. 1977 Education: BA (distinction), Philosophy: L. Ph (Licentiate/Master in Philosophy Theology: M. Th., LSS (Licentiate in Sacred Scripture, D. Th (pursuing) Memberships:
Regular member of seminar and contributor on Tribal theology for over ten years at north eastern regional social research centre, Guwahati
Regular participant and contributor of seminars conducted  by Sanskriti: North East Social Research Centre, Guwahati for over 10 years
Publications: Publish over 50 articles on Tribal theology, Tribal reading/interpretation of the bible and also challenges and opportunities facing  the tribals in north east India Field of Interest: Ever since my M. Th thesis which was on the encounter between Christianity and Kuki culture (my culture)/Tribal culture my main interest and reflection has been and continues to how to truly Tribal and truly Christian or being a Christian with a 'Tribal touch' or how to make Jesus be born anew in Tribal culture and transform it.
See more