PGDIS 554 Indigenous People and Alternative Media (2 Credits)
Course Prerequisites
Please note that this course has the following prerequisites which must be completed before it can be accessed
About This Course
Media and culture are inseparable. At the same time Indigenous way of commutation as Alternative Media remains unheard in modern education and practice. A full course on Alternative Media is offered for two purposes: one, to explore and rediscover the Indigenous people's ways of communication and two, to reconnect the people back to their rich traditions and provide them an opportunity to contribute what they have to the wider society. The Indigenous people and their way of communication has been considered inferior by modern culture. The elevation of modern culture over others and the impoverishment community life as its result today are connected to this.
Objectives
To bring awareness among students the place and role of Alternative Media
To identify different forms of Alternative Media
To suggest the ways in which the Alternative Media can be incorporated today
Learning Objectives
The students learned and appreciate the place and role of Alternative Media in contemporary society
The students acquired knowledge and skills to evaluate Alternative Media
The students demonstrate ability to smoothly handle issues questions regarding Indigenous way of communication.
Requirements
Atton, Chris, Alternative Media - Culture, Representation and Identity (New York: SAGE Publications Ltd., 2001)
Atkinson, D. Joshua, Alternative Media and Politics of Resistance: A Communication Perspective (Berlin: Peter Lang, 2010)
Unit I: Definition of Alternative Media
What do we mean by Media? Mainstream media and Alternative Media; Media for profit vs Media for social change; Media as citizens' involvement in their practice and the appropriation of communication means within their own socio-cultural environment;
Unit II: Different Forms and Aspects of Alternative Media
Verbal and Non-verbal; Arts and Crafts; Folktales and Folklores; Riddles and Wisdom sayings; Communication as Participation; Communication as building human community; Media worldview and Tribal worldview; Tribal concept of values and media concept of values; Tlawmngaihna and Survival of the fittest; Khankho and Media culture;
Unit III: Alternative Media Communication and Social Change
Folk media; Holistic Mission
Your Instructors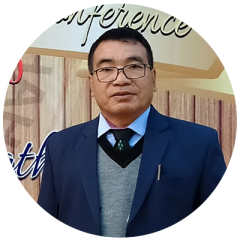 Hemkhochon Chongloi
Visiting Faculty
Qualification: B.A. (Manipur University 1985), BD. (Serampore College     1990), M. Th. (NIIPGTS 1995), JRF (UGC 1996), D. Th. (Senate of Serampore  College 2005) Designation:
Vice Principal, & Associate Professor of Religion, Trulock Theological Seminary, Imphal, Manipur
Ordained Minister in the Kuki Christian Church, India
Experience: Teaching in Trulock Theological Seminary since 1990 Book Published: Indoi, A Study of Primal Kuki Religious Symbolism in the hermeneutical framework of Mircea Eliade, Delhi: ISPCK, 2008 Articles published in journals and edited books:
"Interaction and Integration of Hindu faith and Primal faiths with special reference to Beliefs and Practices adapted by Hinduism from Primal Tradition", Indian Journal of Theology, Vol. 44, No. 1 & 2, 2002
"Indoilogy: Prolegomenon to Kuki Christian Theology", Theologizing Tribal Heritage: A Critical Re-look, ed. by Hrangthan Chhungi, Delhi: CWM/ISET-ECC/PCI/ISPCK, 2008
"Supreme Being and Its Manifestations: A Study towards formulation of Kuki Christology", Doing Tribal Christian Theology with Tribal Resources: Cultural Resources from North East India, ed. by Razouselie Lasetso and Eyingbeni Humtsoe, Tribal Study Series No. 18, Jorhat: ETC, 2009
"Eliade's Methodological Notions towards a Theology of Religions and the Application of it in the Christian – Kuki Primal Tradition Interaction", Many Ways of Pluralism: Essays in Honour of Kalarikkal Poulose Aleaz, ed. by V.J. John, Kolkata and Delhi: ISPCK and Bishop's College, 2010
"Integrating Christian Faith and Kuki Khankho towards Cultural Renewal" in The Kukis of Northeast India: Politics and Culture, edited by Thongkholal Haokip, New Delhi: Bookwell, 2012
"The Role of Religion in Peace building", In Search of Peace: Tribal Resources for Peacebuilding in North East India, ed. by Razouselie Lasetso, Shimreingam Shimray, Lovely Awomi James, Kezhalezo Angami, Tribal Series No. 22, Jorhat: ILEMA, 2013
"Christian Soteriology and Primal vision: A Reflection from the story of Zacchaeus", Journal of Tribal Studies, Tribal Study Centre, Jorhat, Volume XX, No. 1 & 2, Jan – June & July – Dec. 2015
"A Creative Hermeneutics on Neighbour" Journal of Tribal Studies, Volume XXI No. 1, Jan-June, 2016
"Colonialism and Khankho: An Indigenous Reading of Anglo-Kuki War", in Against the Empire: Polity, Economy and Culture during the Anglo-Kuki War 1917-1919, forth coming in 2020.
See more