PGDIS 555 Dissertation (6 Credits)
Course Prerequisites
Please note that this course has the following prerequisites which must be completed before it can be accessed
About This Course
Dissertation Media and culture are inseparable. At the same time Indigenous way of commutation as Alternative Media remains unheard in modern education and practice. A full course on Alternative Media is offered for two purposes: one, to explore and rediscover the Indigenous people's ways of communication and two, to reconnect the people back to their rich traditions and provide them an opportunity to contribute what they have to the wider society. The Indigenous people and their way of communication has been considered inferior by modern culture. The elevation of modern culture over others and the impoverishment community life as its result today are connected to this.
Objectives
To bring awareness among students the place and role of Alternative Media
To identify different forms of Alternative Media
To suggest the ways in which the Alternative Media can be incorporated today
Learning Objectives
The students learned and appreciate the place and role of Alternative Media in contemporary society
The students acquired knowledge and skills to evaluate Alternative Media
The students demonstrate ability to smoothly handle issues questions regarding Indigenous way of communication.
Requirements
Atton, Chris, Alternative Media - Culture, Representation and Identity (New York: SAGE Publications Ltd., 2001)
Atkinson, D. Joshua, Alternative Media and Politics of Resistance: A Communication Perspective (Berlin: Peter Lang, 2010)
Unit I: Definition of Alternative Media
What do we mean by Media? Mainstream media and Alternative Media; Media for profit vs Media for social change; Media as citizens' involvement in their practice and the appropriation of communication means within their own socio-cultural environment;
Unit II: Different Forms and Aspects of Alternative Media
Verbal and Non-verbal; Arts and Crafts; Folktales and Folklores; Riddles and Wisdom sayings; Communication as Participation; Communication as building human community; Media worldview and Tribal worldview; Tribal concept of values and media concept of values; Tlawmngaihna and Survival of the fittest; Khankho and Media culture;
Unit III: Alternative Media Communication and Social Change
Folk media; Holistic Mission
Your Instructors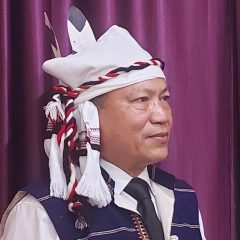 Rev Dr Jangkholam Haokip
Director
Theological Education
February 2006–July 2011: Doctor of Philosophy, University of Aberdeen, Aberdeen, UK
July 1997–April 1999: Master of Theology United Theological College, Bangalore, India
July 1994 – April 1996: Bachelor of Divinity Union Biblical Seminary, Pune, India
July 1990 - April 1993: Bachelor of Theology Union Biblical Seminary, Pune, India
Work Experience:
April 2017 - December 2019: Associate Professor, Dept of Theology and Ethics
Other Responsibilities:

Editor-in-Chief, UBS Journal since March 2016
Director, Research and Publications

April 2014 - March 2017: Assistant Professor of Theology
January 2001 - January 2006: Registrar –cum-Lecturer, Union Biblical Seminary, Pune, India. My responsibilities include; Administration of Academic Office and teaching contextual theologies including Dalit Theology, Tribal Theology, Liberation Theology and Indian Christian Theology.
July 1999 - December 2000: Liaison Officer, Union Biblical Seminary, Pune, India. My responsibility was to establish and strengthen partnerships between the seminary and local churches across denominations within India.
Thesis Supervisions:
BD/MDiv - both Senate of Serampore & ATA
MTh – both Senate of Serampore & ATA
DTh/DMin – Senate of Serampore
PhD – Martin Luther Christian University
Voluntary Work:
January 2020: Director, Bethesda Khankho Institute, Manipur, India
November 2021: Member, Research and Ethics Committee, MLCU, Shillong
March 2016 -December 2010: Senior Pastor, Kuki Worship Service Pune (KWSP)
October 2012 - March 2013: Leader, Glasgow International Christian Fellowship. This is part of the Renfield St Stephen church's outreach ministry among internationals in the city of Glasgow.
January 2013 - June 2014: Secretary, Bethesda Khankho International (UK)(SCIO) registered with the Office of Scottish Charity Regulators, Charity Number SC04236.
August 1999 – January 2006: Chaplain, Kuki Worship Service, Pune, India This congregation consist of mostly university students of Northeast India studying in the city of Pune.
January 2005 – 2006: Founding President, Som-Inn, Pune, India. Derived from the people's cultural tradition, Som-Inn is a residential learning centre for university students in the city of Pune where we provide support, mentorship and Christian discipleship for the residents. The aim of this project is to contextualize the Christian message of love in the people's own cultural context while we prepare them for responsible global citizens.
Charity Initiatives: In 2009, founded a Charitable Organization called Bethesda-Khankho Foundation among Indigenous communities in Manipur, Northeast India with a vision to transform to transform. BKF has four main prjects including, Bethesda Som-In/Children Home, Bethesda Academy for Integral education, medical project among tribal communities and a Centre for Integrated studies specialised in Indigenous Studies. Ordination: Ordained by the Evangelical Churches Association (ECA), Evangelical Congregational Church of India (ECCI) on the 14th of March 2004. Publications:
Haokip, J & David Smith, eds., Voices from the Margin: Voices from the Margins Wisdom of Primal Peoples in the Era of World Christianity (Carlisle: Langham Literature, 2022).
Haokip, J & Haokip J. eds., Khankho a Kibulphu: Discovering Cultural Foundation (Imphal: Bethesda Khankho Foundation, 2017)
Haokip, J & K. Sungjemmeren Imchen, eds., Becoming a Missional Congregation in the Twenty-first Century Indian Context (Delhi: ISPCK, 2016)
Haokip, J. Colonisation, Identity and Search for Peace [A Transcribed text of and preliminary comments on Operations Against Kuki Tribes of Assam and Burma 1917-1919, A Colonial Document preserved at British Library, London, UK], Pune: Published by Author, 2015.
Haokip, J. 2014. Can God Save My Village? A Theological Study of Identity among the Tribal people of North East India with a Special Reference to the Kukis of Manipur (Carlisle, UK: Langham Monograph, 2014).
Haokip, J. 2011. Houbung Kithah Pat (Re-Visioning the Church for the Post-Centennial Witness for Christ), Lamphelpat, Imphal.
Articles in Books and Journals:
Haokip, J. 'A Contextual Theology of Khankho' in Haokip, J & David Smith, eds., Voices from the Margin: Voices from the Margins Wisdom of Primal Peoples in the Era of World Christianity (Carlisle: Langham Literature, 2022).
Haokip, J. 'Evangelisation and Colonialism: The role of 'Christianity' in the Anglo-Kuki War' in Letkhojam Haokip and Ngamjahao Kipgen eds., Against the Empire: Polity, Economy and Culture during the Anglo-Kuki War, 1917-1919, Delhi: Routledge, 2020).
Haokip, J. 2016. 'The Shift of Gravity of Christian Presence from the Global North to the Global South and its Implications for Northeasterners in India' in Haokip, J & K. Sungjemmeren Imchen, eds., Becoming a Missional Congregation in the Twenty-first Century Indian Context (Delhi: ISPCK)
Haokip, J. 2016. 'The Kuki Mission 1910: Toward a Re-reading of Watkin Robers 'the intruder' and his message for the 21st century Christian witness in the context of emerging World Christianity' 168- 180 in Witnessing to Christ in North East India, eds Marina Ngursangzeli and Michael Biehl, Regnum Edinburgh Centenery Series, Volume 31, Oxford: Regnum Books International.
Haokip, J. 2015. 'Khankho: An Exploration of Kuki Indigenous spirituality toward social and ecological peace' UBS Journal Vols. 9.2 - 10.1.March 2016, pp.62-81.
Haokip, J. 2014. "Implications of Having an Independent Missionary: A Review of the 1910 Kuki Mission"  International Bulletin of Missionary Reserch, April Issue.
Haokip, J. 2002. 'Issues Facing Tribal Christians in Northeast India Today' 211-249 in Mark T. B. Laing, ed. The Indian Church in Context: Her Emergence, Growth, and Mission (Delhi: ISPCK)
Book Reviews:
Liberating the Gospel: Translating the Message of Jesus Christ in a Globalised World, by David Smith (Darton, Longman and Todd, April 2016, Price Rs.1,182/ UBS Journal, Volume 10.2, November 2016.
Beyond Literate Western Models: Contextualizing Theological Education in Oral Contexts. Edited by Samuel E. Chiang and Grant Lovejoy. Hong Kong: International Orality Network, 2013. Pp. 229. Paperback $14.95; Kindle $9.95 International Bulletin of Missionary Research, January Issue, 2015.
Research Experiences:
As an expert Panel for online research project "Identifying the emerging roles of U.S. missionaries serving in the Majority World (Africa, Asia, and Latin America)" by  Karen Hatley, a Ph.D. candidate in leadership studies at Dallas Baptist University, USA. (October 2014 -
Field Researcher for the topic, 'Mass Movements among the Mala Madigas in Andra Pradesh and Nadars and Thevars in Tamil Nadu' published in the book, F. Hrangkhuma, Christianity in India: Search for Liberation and Identity (New Delhi: ISPCK, 1998).
Online:
'Impact of Christianity on Kuki people: A Preliminary observation' in the Souvenir of Kuki Worship Service, Gauhati, 200
'Celebrating Cultural Differences for Global Peace' – online Journal Article www.bethesda.org.in/indigenousresources/article
Participation at National and International conferences:
Resource person at 'South Asia Regional Creation Care Conference' Part of the Lausanne/WEA Global Campaign for Creation Care and the Gospel Hotel View Bhrikuti, Godavri, Lalitpur, Nepal, 12 - 16th September 2016 Organised  by World Evangelical Alliance, Lausanne and EFICOR.
Resource person at 'Indigenous Ecological Spiritualties and Christian Faith17-20 August 2015 - Jogja, Indonesia, Organized by: Universitas Kristen Duta Wacana (UKDW), Nijmegen Institute for Mission Studies (NIM) and the World Council of Churches (WCC)
Haokip, J. "Christianity and Identity: Opportunities, Risks & Responsibilities" presented at Rethinking Christianity Seminar November 15, 2014, Dorcas Hall, Lamka, Manipur, India.
Haokip, J. "Kuki Mission 1910: Reclaiming the vision of Watkin Roberts for the 21st Century Kuki Communities in South Asia" presented at Unity Beyond Borders Conference November 21 & 22, 2013, St Paul's Retreat Centre, Imphal, Manipur, India.
Contributor: 'Christian Mission and Kuki Identity; A Study in the Socio-cultural Impact of Protestant-Evangelical Mission on a Traditional Asian People'  presented at Yale-Edinburgh Conference, Yale University, June 27-29, 2013.
'Ethnic Identity and Christianity: A call for fresh theological reflection' – A Paper presented at the Ecumenical International Conference on "Human Identity and the Gospel of Reconciliation"  at Balatonfüred, Hungary from August 16-23, 2008 organised by IAMS.
Resource person: 'Gospel and Globalisation' 2nd South ASia Youth Conference, Bangalore, India, June 8-14, 2005, Sponsored by Church Mission Society (CMS).
Facilitator: 'Called for Peace' South Asia Youth Conference, Sri Lanka, May 23-30, 2002 Sponsored by Church Mission Society (CMS), USPG, Methodist church (UK), Church of Scotland and others.
Resource Person: 'The Role of Lay leaders in the church' at Diamond Jubilee of the Evangelical Church Association, Manipur, India. 2013
Haokip, J. 'The Concept of Khankho: Re-Visiting Indigenous Life-world in the context of World Christianity' Presented at University of Edinburgh, on 4th February 2020.
See more